A technology developed to make small-scale Bioethanol production possible, promoting autonomy and new opportunities to rural communities. The Green Micro Distillery produces an average 41 liters of Bioethanol 95°GL per hour, around 1000 liters per day.
Due to its low energy consumption, the process's energetic balance is highly positive, allowing the Micro Distillery to be self-sufficient, besides producing Bioethanol in significant quantities to promote the modernizing effect we propose. This is a huge differential as it means energy access to rural communities normally excluded from the power grid.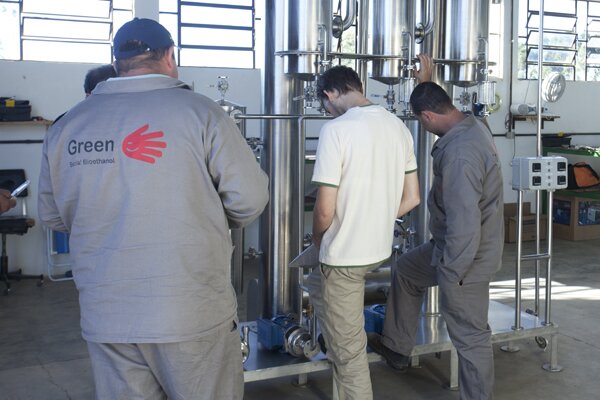 One of its main characteristics is versatility. Any sugar (content higher than 18%) or starch (content higher than 25%) crop can go through hidrolization, saccharification and fermentation processes which take place simultaneously after addition of cold enzymes and yeast (from 28°C to 32°C). This gives our Micro Distillery an innovative and replicable character all around the world.
Our Micro Distillery has a robust structure, low maintenance cost and simplified operation. This allows for easy training of local staff, who need no previous experience, creating jobs.